Morty's Pub ~ A Warm, Welcoming, Old-Fashioned Local Pub
On Rittenhouse Avenue just a block from Lake Superior in Bayfield, Wisconsin.
We offer great food, the largest selection of beers, ales, ciders in the area as well as a full bar. Be sure to ask about our daily specials!
Our burgers are 1/3 pound, 100% Angus beef, lightly seasoned and grilled to prefection. Each burger is nestled between a light and airy potato flour bun.
Check out our menu
Our Whitefish is caught fresh from Lake Superior by local fishermen. We lightly coat it in our own blend of spices and breading before deep frying it golden brown.
Check out our menu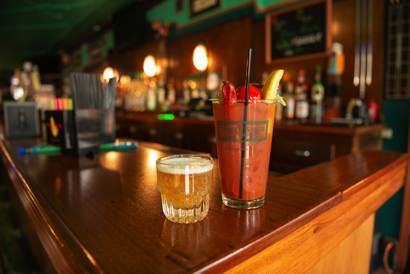 Full Bar
Enjoy one of Morty's renowned Bloody Marys, something from our superb selection of Bourbons, or the Wisconsin classic,  The Old Fashioned. We even have a few fruity drinks to satisfy your sweet side.
Bayfield's Foremost Location for Craft & Specialty Beers
Morty's carries the largest selection in the area. We average over 85 different craft & specialty beers, hard ciders, and sodas, including 14 on draught. We focus on brewers in Wisconsin, Minnesota, and Michigan, but also carry brews from as far away as Alaska and Hawaii.